PAARD50
In 2022 PAARD celebrates it's 50th birthday and we commemorate this with a spectacular week full of festivities in October: PAARD50. From Friday the 21st of October till Sunday the 30th of October we celebrate PAARD of the past, PAARD of the future, but most importantly PAARD NOW. We will take you on a journey through festivals, club nights, collaborations with old friends and new adventures. In our former smoking area we've built a videobooth to collect your PAARD-stories. We're also looking for 50 pictures, one for each year of the PAARD history. These will be part of an exhibition in the tram tunnel in October.
More names, program and information will follow soon! Check our social media and website for updates.
PAARD50
In this week full of festivities from October 21st till October 30th, there will be someting to experience in and around PAARD every day.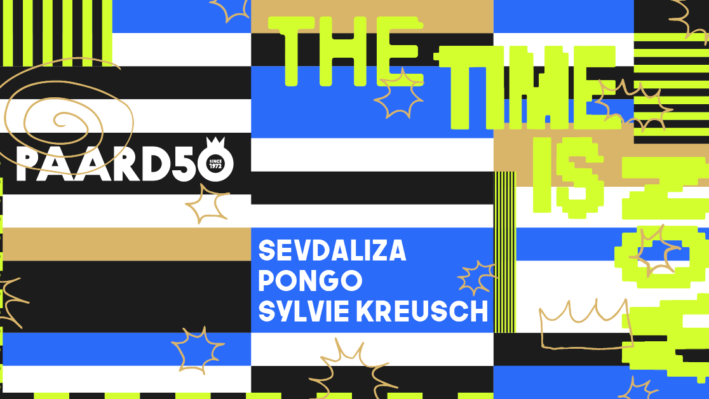 The Time Is Now festival
During The Time Is Now Festival, PAARD offers a stage to artists who innovate, who go against the grain and those who are not afraid to be critial. Artists who determine new paths and shake pop music to it's foundations. Their music is overflowing with urgency and vision so much you can't ignore it. Nor do you want to.
Confirmed: Sevdaliza (Great Hall), Sylvie Kreusch (Main Hall), Catnapp (Small Hall), Pongo (Small Hall), Lionstorm (Small Hall) and more to be announced!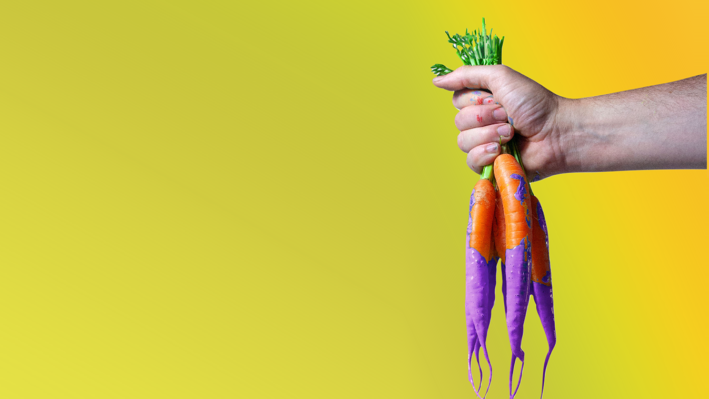 Kitchen Concert by Creative Chef
An edible concert?! On October 23rd, during PAARD50, the Creative Chef will present a whole new concert experience: Kitchen Concert. There will be a tasteful musical and visual spectacle, that's ready to be seen, heard and tasted in every space of PAARD, including the Great and Small Hall. A musical culinary experience that you can experience by yourself or with others. At Kitchen Concert, art, design, music and food come together in a stimulating program. The evening will be concluded by the musical company Kitchen Collective.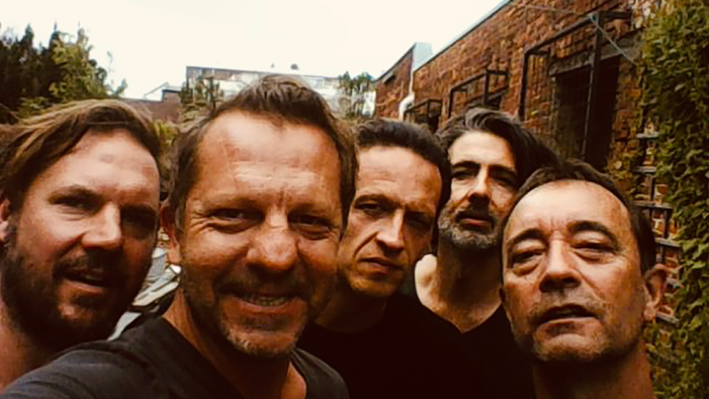 dEUS
Asked for the umpteenth time to describe his band's music, dEUS frontman Tom Barman once came up with a perfectly restrained explanation: "We're slightly extravagant".  It's a credo that has served dEUS well during their two-decade career, which has seen the band emerge from the early '90s club scene in Antwerp, Belgium, and blossom into internationally feted alt rock misfits.
A penchant for radical line-up changes, dramatic shifts in musical direction and lengthy periods of silence while band members pursue various side projects, only confirms dEUS as restless spirits forever in search of new ways to indulge their apparently modest extravagances.
dEUS is a long lost friend in PAARD, they played our stage on the 22nd of februari 1995. Check them out on 27 october 2022 during PAARD's 50 year anniversary!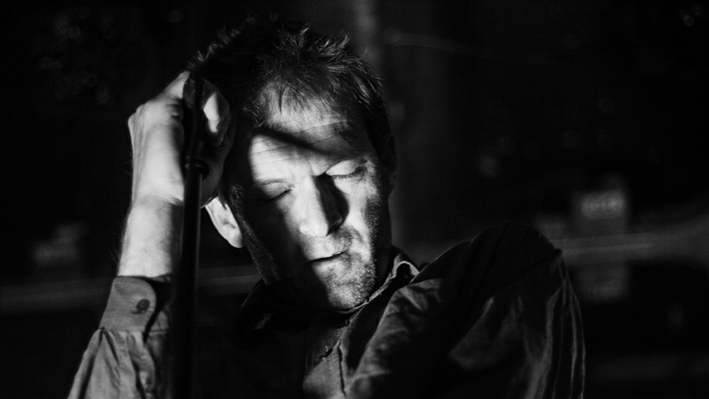 Joy Division Undercover
On October 27, Joy Division Undercover will play an ode to Ian Curtis and his band. Joy Division Undercover takes a sublime selection from the legendary repertoire and interprets it into a dynamic live set. With vocalist Erny Green (The Eternal), who equals the voice of Ian Curtis "uncanny", and guitarist Henk Koorn (Hello Venray), you can also expect this quality.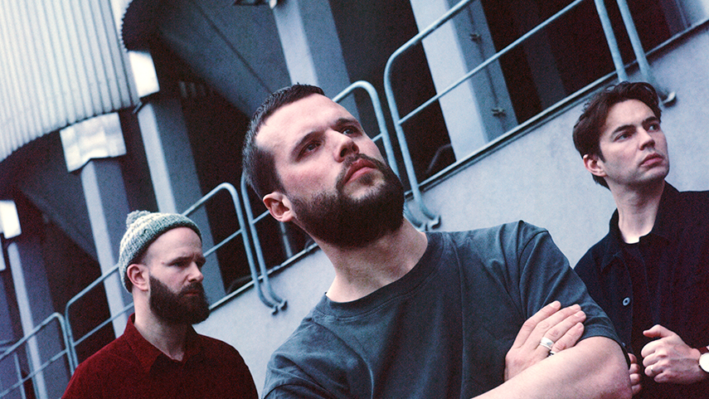 White Lies
White Lies will be playing at PAARD on the 28th of October during PAARD50. It's well over a decade since the band's breakthrough single Death introduced a group for whom the fragility of human existence has been a constant touchstone. Now in his 30s, chief lyricist Cave's outlook on the great unknown has evolved. "I think the side of death or mortality that I always find interesting is the fact we all know it's going to happen," he says, "and how different people navigate that."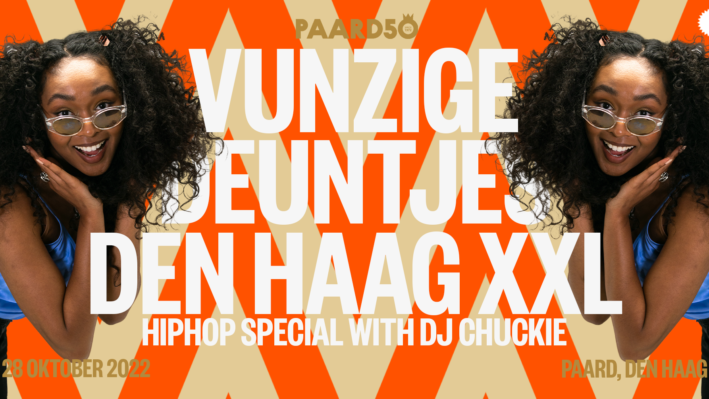 Vunzige Deuntjes
On October 28th we will celebrate 50 years of Paard with a special XXL edition in the beautiful city behind the dunes. We will be bringing a special treat this evening. None other than Hague Hero DJ Chuckie will drop by with a whole bunch of hiphop tunes in his record box, so you know exactly what the deal is. All OGs, filthy veterans and Young Dogs: report!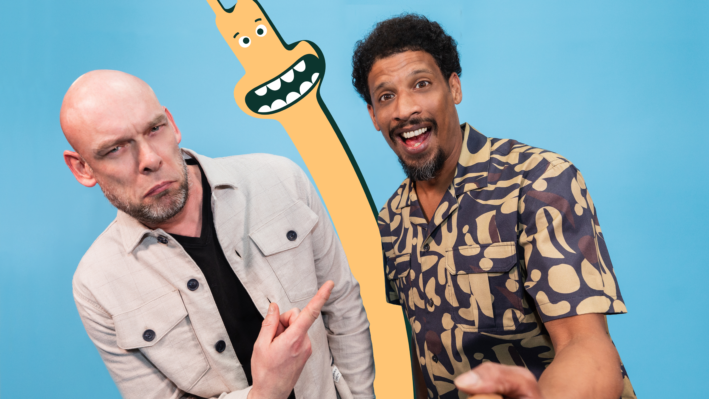 Frenk de Slak
Please note: this is a Dutch-spoken performance for the whole familie (6+).
Once upon a time, not so long ago, you were in the hall with your friends enjoying a steaming hip-hop show by Rico & Sticks or a little longer ago by Opgezwolle. You would like to share that feeling of adrenaline after such an evening, right? Because we all get older. And the world is moving very fast. Are we still keeping up? Are we enjoying enough? Do we stop at all the beauty? Life gave Rico the tools to capture these issues in a new performance: Frenk de Slak (Frank the Snail).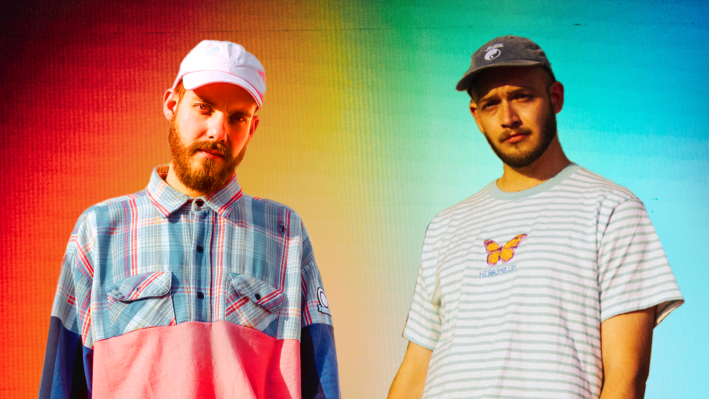 San Holo (live) + Droeloe (special guest)
A couple of weeks ago, San Holo performed in a sold-out Red Rocks Stadium, for PAARD50 we will bring him back to the place where it all started.
Expect nothing less than a truly intimate experience from post EDM / ambient post-rock producer San Holo (LIVE) and multi-instrumentalist DROELOE! Both artists are in a league of their own with their forward-thinking sounds and staggering live performances. Join us in celebrating the 50th anniversary of PAARD on 29 October 2022 with an evening to cherish forever.
Lady Blackbird
In 2020 Blackbird released, the debut of the American singer Lady Blackbird. It's an uplifiting representation of the powerful song of Nina Simone. The cover is overflowing with hope, passion and enthousiasm. It marks the rising of a new revelatory voice in the jazzscene. The 30th of October, Lady Blackbird will play in The Hague!
Long-term PAARD50 projects for the upcoming months:
PAARD50 Videobooth
What makes PAARD…PAARD? You do! For 50 years, the ambience of PAARD has been determined by the people who visit us. During these 50 years we've have experienced unforgettable concerts, love has arisen, friendships have been celebrated and people have danced hard to the music that mattered at the time. Did your life change in PAARD or do you just have a funny anecdote? Record a video in the PAARD50 videobooth and tell your story!
You will find the PAARD50 videobooth in the former smoking-area for the rest of the year. So follow the red carpet, take place in the booth, press the red button and burst forth with your PAARD story!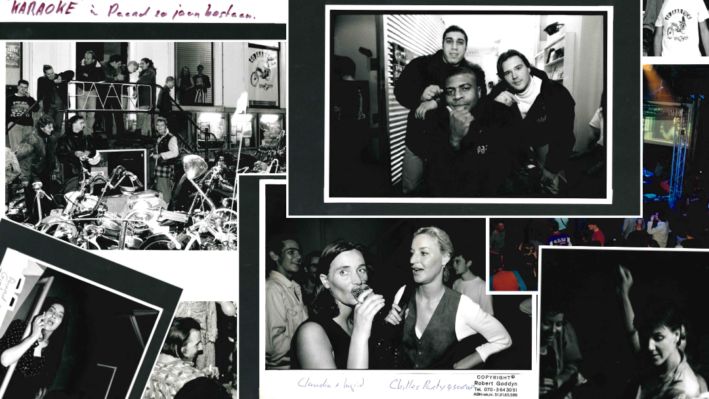 Tramtunnel Exposition: PAARD50
During the week full of festivities in October, we celebrate PAARD now, but also PAARD from the past. Together with her visitors, PAARD changes inevitably with the spirit of the times. The free 70s, the rough 80s and the hopeful 90s were also present in PAARD. During PAARD50 we look back at the fashiontrends, music and style of the PAARD visitiors who have passed in the last 50 years with a photo exhibition in the Tramtunnel. And for that we need your help!
In collaboration with the Municipal Archives of The Hague, we are looking for photos taken by PAARD visitors and employees. One for each year, so 50 pictures in total. Photos that portray the people, music and fashion of the past fifty years. The 50 photos will be exhibited in the tram tunnel in October and will eventually be added to the official Hague municipal archives, thus becoming part of The Hague's pop history. So share your PAARD photo from the past with The Hague of today!
Check the website and our social media for more PAARD50 news and programme!