Paard
Venue Rental
A GREAT EVENT IN PAARD: IT'S POSSIBLE!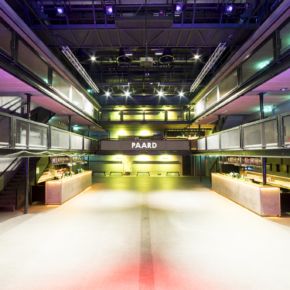 To organize an event in these days is quite the puzzle. How can networking with peers be done in the same space and by safe means? Which kind of venue can host an online or hybrid congress of high audio and video quality standards. Or how is it possible to have a meeting with a large group of people at the required social distance and still be in the same space safely? And how about those great, safe socializing drinks afterwards? Is it possible to safely celebrate a wedding or hold a memorial? And how can you hold a graduation ceremony with enough social distance between the attendees?"
PAARD offers these possibilites and is THE ideal partner for hosting your event according to the new regulations in times of COVID-19.
Over the years PAARD has grown into a fully equipped event location for the business market.
The Main Hall, Second Room, Paardcafé and Foyer are the ideal venues for a congress, debate, networking event, masterclass, webinar, presentation, company dinner or TV recordings.
PAARD is also the place to be or school gatherings, screenings and kick-offs.
PAARD offers the complete package. Your event is fully productionally supported by the outstanding and experienced PAARD production team, at your service to make your event run smoothly.
This team can boast years of experience with all sorts and kinds of events.
A state-of-the-art sound- and light installation plus high quality streaming facilities are part of the PAARD event-infrastructure.
Everything can be set up entirely to your liking. You can simply hand over things suchs as ticketing or catering, so PAARD can manage this for you.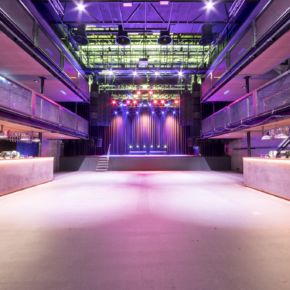 YOUR EVENT OUT OF THE BOX
PAARD offers the facilities to host events both online and physical (or a combination of both), and still provides the same high PAARD-standard as before the COVID-19 period.
PAARD is equipped with ample m2 to host groups of the maximum permitted size in accordance with the COVID-19 regulations. It is even possible to connect the rooms of PAARD with audio and sound, so safe contact is secured in an inventive way during the whole of the event.
Would you like to inquire more about the possibilities of organizing an event in PAARD? Please feel free to contact our Events department via [email protected].